Cosmetic Dentistry in Lake In The Hills 
Teeth Whitening
At-Home  Teeth Whitening
Teeth Whitening usually requires two visits. At the first appointment, impressions (molds) will be made of your teeth to fabricate custom, clear plastic, trays.
At your second appointment, you will try on the trays for proper fit, and adjustments will be made if necessary. The trays are worn with a special whitening solution either twice a day for 30 minutes or overnight for a couple of weeks depending on the degree of staining and desired level of whitening. It is normal to experience tooth sensitivity during the time you are whitening your teeth, but it will subside shortly after you have stopped bleaching.
You will receive care instructions for your teeth and trays, and be encouraged to visit your dentist regularly to help maintain a beautiful, healthy, white smile.
In-Office Teeth Whitening
Create Bright Smiles, Faster with EPIC X laser whitening: It takes only 20 minutes (vs. 50-60 minutes with other systems) Provides a whitening option for people with sensitive teeth. Get a beautiful, brighter, whiter smile that makes you feel great.
Porcelain Veneers
Porcelain veneers are wafer-thin, custom-made shells of tooth-colored materials designed to cover the front surface of teeth to improve your appearance. These shells are bonded to the front of the teeth, changing their color, shape, size, or length. These veneers are a popular option because they mimic the light reflecting properties of natural teeth. Dental veneers can also provide relief from the tooth pain associated with worn enamel.
Crowns
A crown (or cap) is a covering that encases the entire tooth surface restoring it to its original shape and size. A crown protects and strengthens tooth structure that cannot be restored with fillings or other types of restorations.

Although there are several types of crowns, porcelain (tooth-colored crown) is the most popular, because they resemble your natural teeth. They are highly durable and will last many years, but like most dental restorations, they may eventually need to be replaced. Porcelain crowns are made to match the shape, size, and color of your teeth giving you a natural, long-lasting beautiful smile.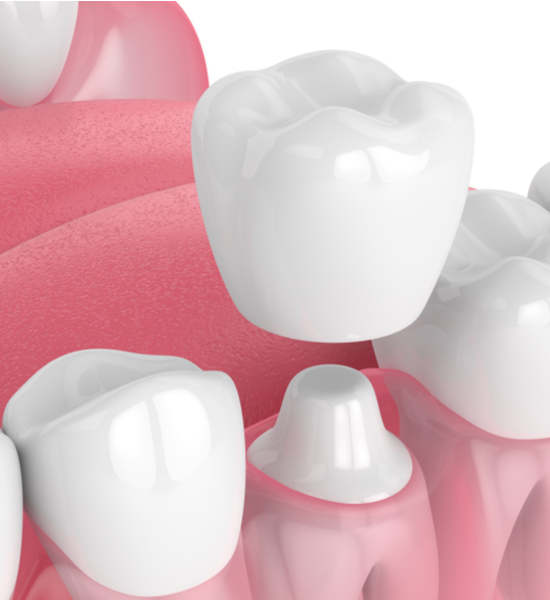 Dental Implants
Dental implants are a great alternative for natural teeth replacement. Strong and stable, they can restore a lost tooth and can look, feel, fit and function like a natural tooth. This procedure has become a popular option in dental reconstruction, with over half a million implants placed every year in the U.S.
Bonding
Dental Bonding is among the easiest and least expensive cosmetic dental procedures. The resin used in bonding can be shaped and polished to match the surrounding teeth. Bonding benefits both your oral health and improves your appearance by repairing damage, minor flaws, and irregularities in the surface of your teeth. This process is a wonderfully effective and affordable way to make cosmetic improvements to your smile.